Breed: Labrador Retriever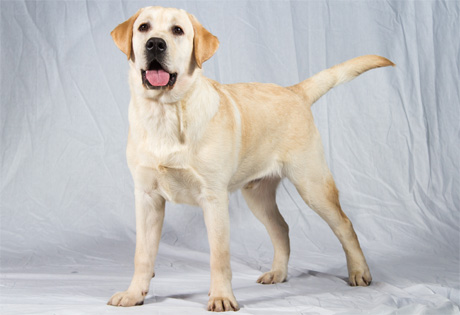 Photo Courtesy of the AKC
___________________________________________________
I would like to take a few moments to write about our wonderful experience at Dr Davis' office. First of all we found him online after researching about OFA readings and vet who specialize in them after my female Chocolate Lab Izzy's OFA's came back MILD Dysplasia. She had them done at our regular vet's office. I was so sick, and very sad. I could not believe the results. We paid top dollar for her from a very reputable breeder with parents having all good clearances. We live in Cincinnati, an hour and a half from Dr Davis' office. Willing to try again and take our chances spending more money we contacted his office and made the appointment. We arrived there in the morning after an hour and a half drive, my girl was very scared and nervous, Dr Davis came out expressing how sorry he was he would have to sedate her because she would not lay still and was very scared. We agreed and he was amazing along with his assistants. Everyone was extremely friendly. We left that day feeling very good!! He told us he expects nothing less than a Good grading on her hips. Weeks later our OFA certificate showed up with Izzy's hips being GOOD!!!!!! I would like to thank Lonnie and all his staff for everything they did to help in the process of preparing Izzy for breeding. She gave birth to 3 awesome Lab puppies in November 2012. Thank you Lonnie! You do amazing work and I would reccomend anyone looking for a knowledgeable vet to visit you for OFA X-rays.
Izzy is a 3 year old Chocolate Lab female from Ambersky in Cleveland OH
Missy Mahoney
Cincinnati, Ohio
___________________________________________________
I made my first visit to Dr. Lonnie Davis with my Labrador Retriever Lucy at the recommendation of Lucy's Breeders. We live about an hour and a half drive away. I am a retired Vet lech and I knew that positioning for Hip X-rays is everything. Lucy also had Elbow X-rays and a blood test. Dr.Davis and his staff were very knowledgeable and I really appreciated being able to help with Lucy during the X-rays. I just got a new puppy and when it is time for her X-rays we will be going to Dr.Davis.
Thanks to You and Your Staff. You made our visit a positive experience!
Joyce Steinle
Forest,Ohio
___________________________________________________
In 2011, I made the mistake of taking my Labrador Retriever, Molly, to a local vet to have her hip X-rays taken to obtain her OFA rating on her hips. Since this was my first dog from champion stock, I wished to breed her and obtain some great hunting pups. Her entire lineage had Excellent or Good hips, so I figured I would not have any problems. I was very wrong!! The X-rays were horrible and when I received my letter from OFA telling me Molly had hip dysplasia and would not get a rating, I was devastated. I didn't know how this could be the case. My breeder told me to call Dr. Davis and get a second opinion. I set up an appointment with Dr. Davis' office and made the three hour trip to Troy, Ohio. I showed Dr. Davis the X-rays from my local vet (who, by the way, had to look at OFA literature to see how to take the X-rays) and he told me that there were more than several things wrong with them. Shadows and the poor placement of the animal all contributed to some mighty poor X-rays. Dr. Davis, his two staff members, and myself, all participated in taking about 5 more X-rays, making sure to properly align Molly's body to produce a true picture of what her hips look like, We re-submitted the X-rays and, after several weeks, received the news that Molly was given a "fair "rating by OFA on her hips. I was ecstatic to say the least. Dr. Davis had saved my dog from being prematurely spayed and the loss of many great hunting dogs which she has already produced. On July 18, 2013, she gave birth to 7 beautiful pups, her second litter. Many of her pups from her first litter are already well on their way to becoming great hunting dogs themselves.
I owe Dr. Davis a lot. More than I think he even knows. I appreciate all the hard work of the staff of Troy Animal Hospital and they are the ONLY vet I will use for OFA hip X-rays. Period!!
Sincerely,
Steve Mazak
Creston, Ohio