Breed: Golden Retriever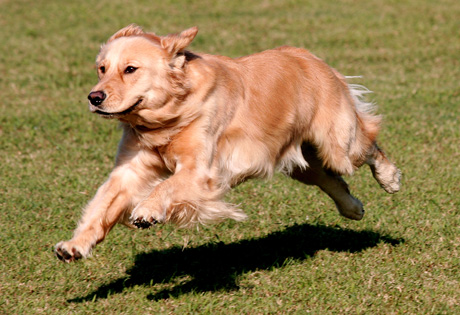 Photo Courtesy of the AKC
___________________________________________________
Doctor Lonnie Davis is the very best there is in our opinion. We would not take our Golden Retrievers anywhere else for their Hip and Elbow X-rays which get sent to OFA for evaluations. We send everyone we know to him and recommend him very highly no mater how long the drive would be. We believe in him so much that we have offered to have dogs flown to us from other breeders just for him to do their X-rays. We also have in our contract that any dog used for breeding from us must have their X-rays done by him at age 2 years for OFA . Dr. Davis is so wonderful with the dogs and I love that he whispers in their ear to calm them so they don't have to be put under to do this, dogs are awake. Thank you so much Doctor Lonnie Davis!! See you soon.
John and Pam Tibbs / O'Quince Golden Retrievers
Indiana
___________________________________________________

I am writing this to share an experience that I consider to be an out of the norm situation that ended up with a great result. As I write it will be difficult to not show some emotion but in no way do I place blame or judgment. It was a positive learning experience that I wish to share that someday could produce another positive experience for someone and their dog. Not only a Golden owner but any one submitting a hip X-ray to OFA.
As we go through the years in Goldens we share a common bond. Not only the joy of our breed but the reality that the highs and lows do exist. I recently came on to a heartache of a disappointment that I did not see coming, it just flat out blindsided me. My friend said "don't give up on her yet" and so the story begins. Oh and by the way this friend is someone I have never met in person yet our common bond and trust is unflappable.
On November 30th 2012 my bitch turned two. Oh Yea! Now we can get hips and elbows done and move on. She was just finishing up her heat cycle so I thought wait until she is out then get them done. When I called the vet office to make the appointment, because of Dr vacations, I chose December 6th, a little sooner than I wanted but decided to go ahead rather than wait. Great, this is the last day of her cycle should work just fine.  Some believe to wait at least 30 days after and OFA even suggests it on their site. L called her co-owner/co-breeder and said what do you think? Last day of cycle? We both agreed lets just do it, we had both done them before on bitches in a cycle.  Dropped her off in the morning as scheduled ran a few errands, got coffee then my cell phone rang. The Dr. calling to say "it doesn't look good, so I took a second X-ray and it might be a little better but still not looking good." Oh My Gosh! The pit in the stomach was like a sucker punch that took my breath away. I drove to the office and looked, sure thing, as he said. It was suggested to go ahead and submit as you never know what OFA will do. So I completed the paper work and said O.K.. Slept on it over night and I was there waiting when the doors opened the next morning. "I am not sure I want to send this in. I might want to wait until she is completely out of estrous and re-do them." Suggested one more time "oh lets go ahead, you never know what we might get back." So off they go and on Christmas Eve when I checked the mail I got a candy gift box and that dreaded letter from OFA. ModeratelDysplastic Subluxation. I felt hopeless. The vet was informed of the result as well and I got a call stating, "not what we wanted, no reason to re-xray, never breed her and strongly recommend spaying her."
The New Year rolled in and I started thinking it just doesn't feel right. I dropped a note to a friend sharing my recent situation and she said "don't give up on her yet. Contact Dr Davis in Troy, Ohio. See if you can send him a copy of the X-ray for a review and a consult. I have friends who have done the same thing and had a positive outcome."  Included in her email was a link to his site and I literally memorized his published study.  Could it be? Because of POSITIONING could I get a better result?
I also, as I sent the X-ray to Dr. Davis, sent the same X-ray to her co-breeder/co-owner to review with her vet, so she was in the loop. More than likely this dog will not pass was the conclusion with a resubmittal. So really no reason.
I could not get a copy of the original sent but I could send him the first one that was taken. So I did. Dr. Davis does OFA consult reviews. I was really excited to hear what he might think. Within two days he had called me in person. "Well you have a long way to travel but I will give you 50/50 odds that we can get a number." WOW! 50/50 odds. I-Iummm. Not the best but I must try. Dr. Davis, when the reason is subluxation and after his review, will consider a resubmittal.
The first X-rays were done with her being sedated and I could not be in the room with her.  I called all of the vets in my area and they were all on the same page, sedated and no owner allowed. Dr. Davis first tries with the dog awake and I signed a waiver that allowed me to be at the head of my dog. She was awake.
So then I started looking at air fare. I can fly to Ohio from Alaska for the same cost as my first X-ray. Talked it over with my husband, we agreed. Book appointment to see him and buy the ticket.
I had down time. I made the decision to go in February and my appointment was April 15th 2013. I studied his article and survey reports daily thinking I might be one of these dogs that bumps up by 4 ratings. Waiting was tough.

I flew all day Saturday, Sunday a day of rest then at 7:30 on Monday morning we were at Troy Animal Hospital. They were fabulous, called me at the hotel on Sunday checking to see if I needed anything. We took the xray and reviewed it together. Dr. Davis shared "I would like you to leave with a smile on your face knowing that we gave it our best shot for an OFA #. I would like to think that this X-ray should give you a good or a fair" I looked at that xray every day, waiting. It was digital and the office emailed me so I knew what OFA was looking at.
I got a phone call this morning from her co-owner/co-breeder, 5:30 a.m. Alaska time.
"SHE PASSED"
"SHE GOTA FAIR."
So as a result of submitting a quality X-ray she went from moderate/dysplastic, subluxation to an OFA# with a FAIR.
As Dr. Davis tells us, POSITIONING is everything. I asked him about the time frame around a bitches estrous cycle and he again says POSITIONING.
I learned so much from being able to spend time with him. Dr Davis was recently published in our GRNews. He has our dogs best interest and I am convinced that his knowledge, experience and methods work on our behalf. I believe that OFA is on our side as well but we must send them quality X-rays to work with.
Trudy Davis
Golden Retriever
Alaska
___________________________________________________

I just wanted to give you some feedback on our experience with your facility.  We own three golden retrievers and two of them have all of their clearances. Our most recent experience with a very "well known" OFA hips / elbows Doctor in a state that is very close to us was a disaster. Yes he got the pictures, but the trauma my golden went thru to get them made me sick. I vowed never to put my goldens thru something like that again.
Well, you came highly recommended to us from some very prominent people in the golden breed. I called your office to ask about your procedure and some other general questions. Your staff was fantastic. They took the time to answer my questions, put me at ease over the procedure, and really made me feel like my golden was very important to them!
We reside in St. Charles, IL. A far western suburb of Chicago. We made the 6 hour drive and spent the night in a very dog friendly Holiday inn, within a mile of your facility.
We were greeted warmly when we arrived. We then met you. Sir, you are truly a "dog person". Why?
Yes you took us back to help in the procedure. You thoroughly explained everything but here is what
I look for and almost never ever see. You "bonded" with my golden. You talked to him, quietly, right down next to him. When be was on the table, you "introduced" him to your entire staff, pointing out each member, and calmly speaking to him. It is exactly how I treat my own dogs!
During the X-rays I was simply amazed. I never dreamed that a dog could be so comfortable and happy while you did your work! Kota ( our golden) wagged his tail almost the entire time he was on the table.
There was absolutely no force required to hold him still. You took several pictures and saw that he could possibly get "excellent" rated hips. You were very focused to get the hips positioned correctly, to your standards, and you did.
We received the OFA Excellent certificate a few weeks later.
Dr. Davis, the experience was amazing. So positive in every way. My only regret is that I can't employ you has my regular doctor, to care for all of my goldens!!
I have highly recommended you to everyone that asks about clearances for goldens. Some as far away as Canada and Maryland. You gave us a "perfect" experience that any dog owner would be proud and comfortable with. I highly recommend you and your staff to every pet owner out there.
Simply put, you are the best of the best. Thank you for caring so much about our goldens and treating them like you did.
Golden Regards
Mark Keller
Illinois
___________________________________________________
I received a "Mild" hip grade from OFA on my 2 year old Golden Retriever bitch.  I took her to another Veterinarian who has done many hip X-rays for me in the past from whom I have gotten hip grades ranging from Fair to Excellent.  I showed him the "Mild" X-ray and he told me he couldn't improve on it because the positioning was "perfect".  Several days later I received my issue of the GRNews and read about Dr. Davis's work and his precise positioning for hip X-rays.  I called his office, made an appointment and two weeks later made the 1200 mile round trip to his practice to have X-rays taken. Both he and his staff were very kind, professional + very gentle with my bitch and took the best hip X-ray I've ever had taken and it was done with no sedation. It was resubmitted to OFA and she received a "Good".  I was very pleased and would not hesitate to travel the distance to have my X-rays done by him in the future.
Golden Retriever
New Jersey
___________________________________________________